Web Forms: How to Add an Opt-In List

Introduction
When creating your form, one thing you will want to consider is creating opt-in lists for contacts to subscribe to. This can be done in two different ways, either automatically assigning a contact to an opt-in list once they agree to receive emails, or allowing the contact to select the opt-in list they want to subscribe to, which is more of a manual process.
Prerequisites
It is not required to create the opt in list prior to creating your web form, however it will be easier to add the list to the form if it already exists. If you need assistance in creating a opt in list, please read
this article
Instructions
For both creating a manual or automatic list, you will need to navigate to the
Advanced Tab
on the form then under the
Data
subtab click on
Opt-In List.

For automatically adding contacts to an opt-in list, select the list you want them to be added to from the Available List drop-down and click ADD.

The list will now appear below.

Note: you can add multiple lists for contacts to be added to. If you are automatically adding the contacts, contacts will be added to all the lists.
If you would like your contacts to manually add themselves to opt-in lists, you would repeat all of the steps laid out above, however, once you have added the list to the form, click on Auto listed under the Type column, this will change the type to manual




Note: the manual options provide an extra confirmation that the contact would like to be submitted to the opt-in list and if multiple lists are available, they can choose which one they want to be added to instead of being added to all of them.
If you have added multiple lists, you will be able to reorder how the contact will see them on the form under the actions column. Click Down or Up to move the list.




Note: the Up and Down option will only appear if multiple lists have been added.
Once you have your lists added and in the order you want them to appear, you will have to add them to the form section you want them to appear in.
Navigate to the Layout Tab and create a new field under the section you want the list selection to appear





You will need to name the field and create the field



Note: Do not worry about the Type drop-down as you will have to change this within the advanced settings of the field.
To display the lists in this field section, click on the pencil icon to manage the field.






Use the Type drop-down to change the type of field to Email Opt-In List.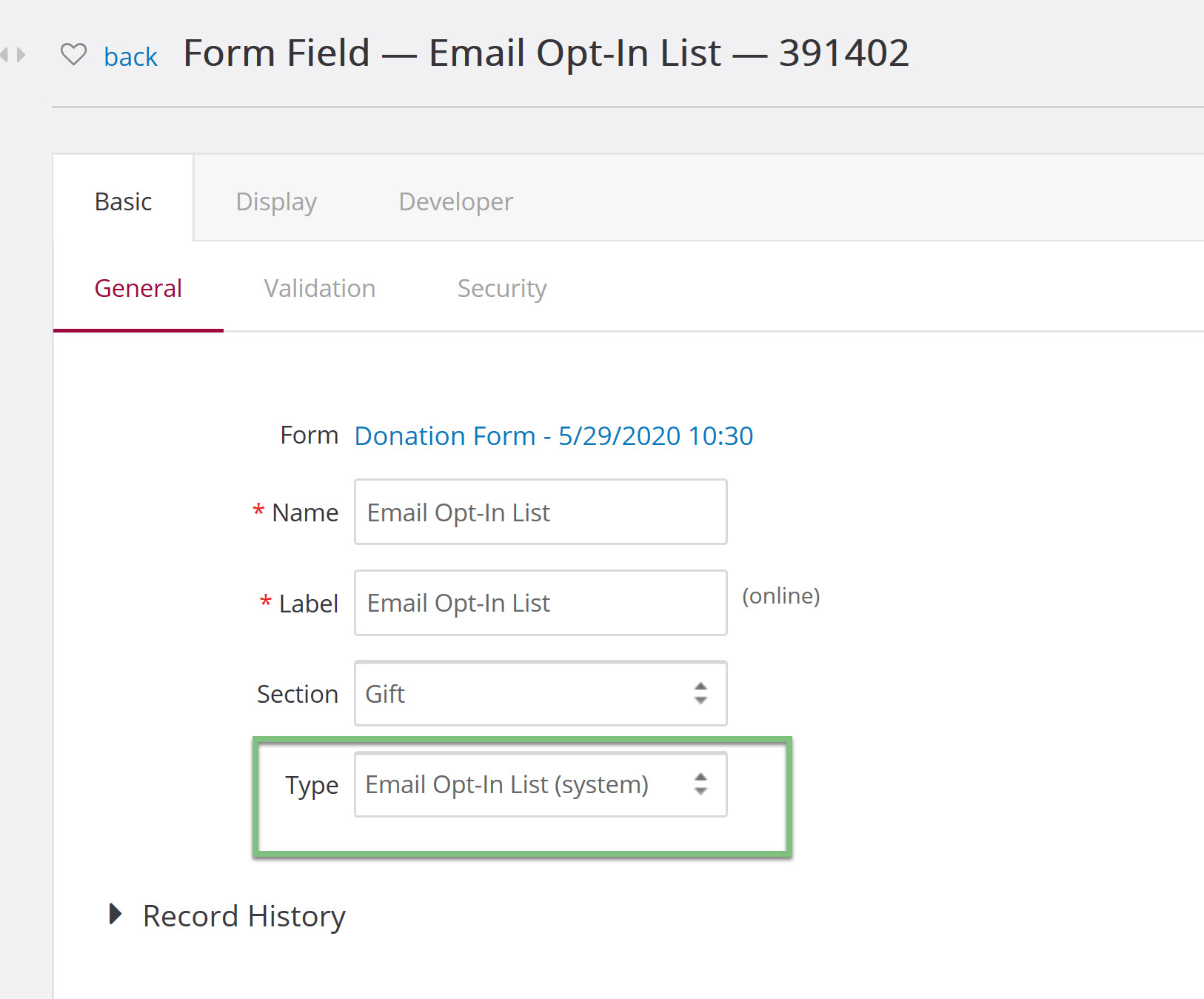 When you view your form online, you will now see checkboxes with the Opt-In lists you created previously.